Intro
A recent implementation of an infrastructure had a requirement for replicating, utilising Veeam Replication, 3 Production Linux virtual machines to an off site DR location at a remote site.
While relatively comfortable with the backup portion of Veeam Backup & Replication (6.5), I had never set up replication job before, but as with most things Veeam related, it wasn't too difficult to implement.
Design
The source containing the Production VMs is a 3 host VMware vSphere 5.0 cluster and the target a single vSphere 5.0 host with local storage. Connection to the DR site is over a VPN link.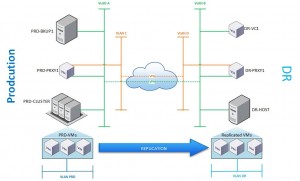 Following Veeam's best practises for offsite replication, a Veeam proxy server ( PRD-PRXY1 and DR-PRXY1) was placed at each site. The replication job would then be set up to utilise the proxies to compress/optimise the data on the source (PRD) side, pass the compressed/optimised data onto the target (DR) , which would then decompress the data and pass onto the DR host.
NB : The proxy servers are VMs running on the source and target infrastructures respectively.
There was requirement to create/utilise a dedicated replication VLAN, to allow the use of QoS should the replication saturate the link to the DR site.
This added a little complexity to the design, and needed some extra research, as it would require an extra NIC to be added to the proxy VMs. One interface connected to the Management VLAN (VLAN A & VLAN B in diagram), and one interface connected to the Replication VLAN (VLAN C & VLAN D) .
A search through the Veeam forums, flagged up the following topic:-
http://forums.veeam.com/viewtopic.php?f=2&t=15104
From the post, 2 options were available:-
Option 1
Add a static route on each proxy VMs, routing replication traffic across the replication interface/VLAN.
Option 2
Register both proxies in Veeam using their DNS names, and use local host entries on the proxies to point to their counterpart's DNS name, but on the replication network.
After some discussion, option 2 was chosen, as we didn't want to add more networking complexity with routes etc.
In the next part, I will go through the Veeam setup, adding the servers/proxies and then in the final part, the setup of the replication job itself.