While the main VeeamOn 2015 sessions kicked of today , being a Veeam Vanguard meant I got to spend a day "off track" for some exclusives.
First up we were given our Vanguard swag/merchandise.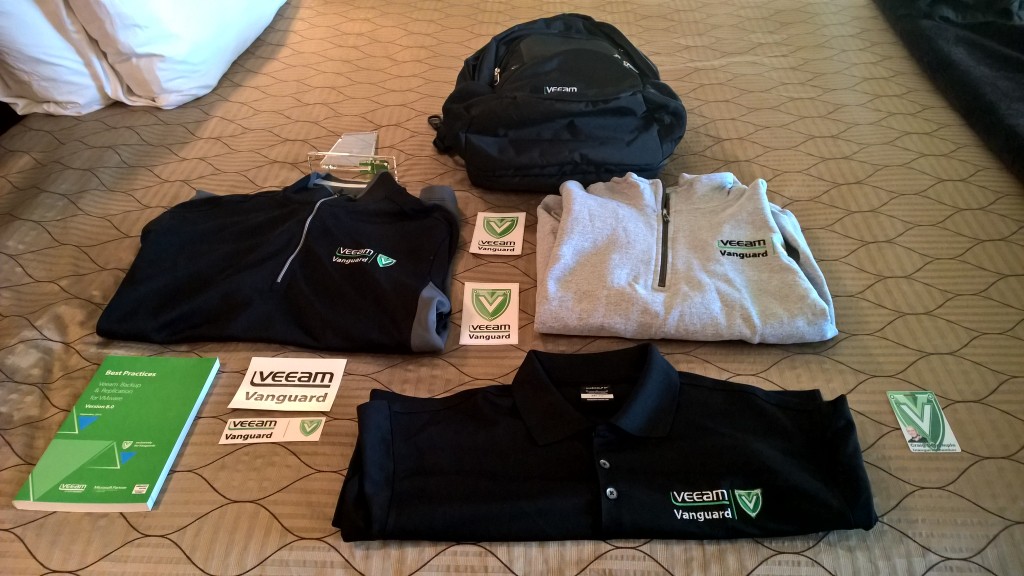 I had opted for a t-shirt, long sleeve top, sweatshirt, jacket and rucksack. Also included in our swag were some cool laptop stickers, a Vanguard pin and a 'Best Practises' book, exclusive for Vanguards. There was also a really nice surprise, in the form of a trophy.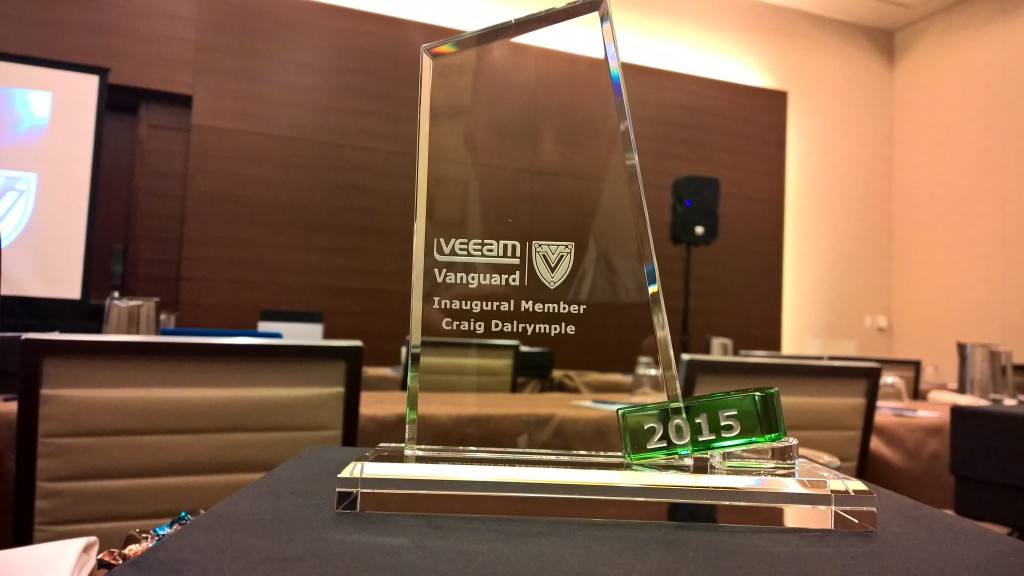 Rick Vanover kicked of the session by giving a brief history of the process that led to the Vanguard program coming about. He then went on to introduce the other co-ordinators who helped manage the program : Dmitry Kniazev and Kirsten Stoner, Clint Wyckoff as well as Mike Resller and Luca Del'oca.
Rick was stalling for time, until our 1st surprise guest arrived, Ratmir Timashev , founder and CEO of Veeam. It was a really nice touch that Ratmir took time out of his busy schedule to pop along and thank the Vanguards in person for their contributions.
We then had an "Ask Me Anything" session with Anton Gostev (VP of Veeam Backup & Replication), Vitaliy Safarov (VP of VeeamOne) and Alec King (VP of SCOM MP product). Most of the session questions and answers were under NDA/embargo, so I cannot go into details, but needless to say there a few cool features/products coming down the line.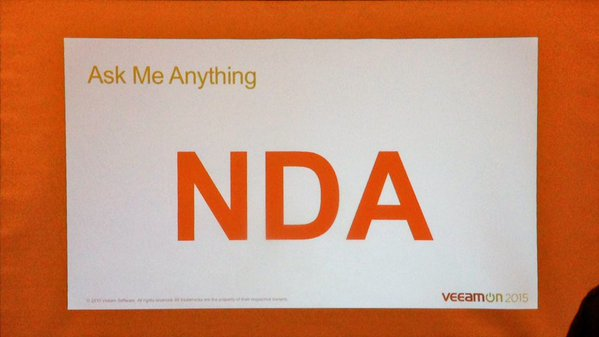 We then broke for lunch, and I have to say the catering/setup by the Aria and Veeam was excellent. The dessert for today was 'Exotic Empanadas', sooooo good. I had 4, then smuggled 4 out for afternoon break 🙂
A brief session with  representatives of the Veeam global Support Teams, led by Ben Milligan. The main topics were around what they do, and how best to engage them. Really goes without saying that the Veeam Global Support is awesome.
The last Vanguard session was a sneak preview of the upcoming Managed Backup Console for Service Providers , with Mike Ressler. I'll cover this in a later post next week sometime. Mike also went on to talk about some other NDA products/features.
I really enjoyed the special Vanguard day, it was something a little different from the 'you guys are great' message.
If I had to take one message away from today it is this, Veeam really buy into the whole community thing, as the Vanguard program shows. Not many companies engage with their user/customer base as well as Veeam.