In instances where you are running a Remote site, the new Mount Server feature of Veeam Backup and Replication v9 can be a useful feature. The Mount Server allows you to specify a Windows Based server in your remote site, as a mount point for your file level restore operations.
Description
Prior to v9, in a Remote office scenario, when a file level recovery was required, the backup files had to be mounted directly to the VBR server. Even if the repository was located at the Remote Office, the data would have to be transported over the WAN link twice:- 1st pulled over to the VBR server, and 2nd push the data to the virtual machine at the remote site.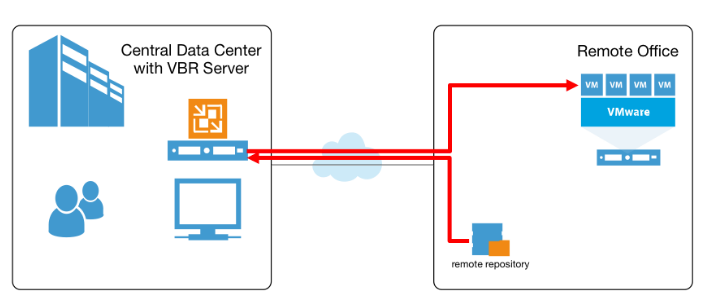 With a Mount Server defined at the Remote Office , then the VBR only needs to send control commands. By mounting the restore points at the remote site, you can reduce the amount of traffic transported over your WAN links, speeding up the file level restore operations.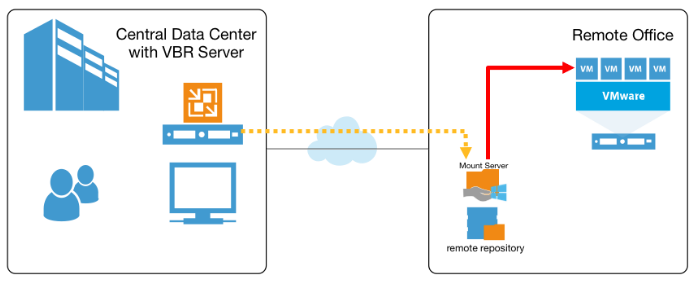 By default the Mount Server role is assigned to the repository, but this can be delegated out to any Windows based server at the remote site, which runs under the service 'Veeam Mount Service'

The VBR Server communicates with the Mount Server over ports TCP 9401 and TCP 6170 by default.
'Gotcha'
This also applies in instances where you have a repository, possibly in a different subnet from your Backup server, separated by a firewall.
Now here is where there is a potential 'gotcha' , when you upgrade from v8 to v9 you may find that your file level restore operations may fail with the following error :-


And the culprit … Ports TCP 9401, 6170, prior to v9 and the Mount Server role wasn't around, so no need for this port to be open. Check your firewalls and see if the port is now blocked.
It's a very simple fix, but can cause some head scratching trying to figure out why your FLR worked in v8 but are now failing after upgrading to v9.